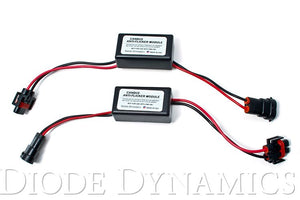 Prevents flickering and bulb out warnings after installing HIDs or LED bulbs
Plug-and-play installation, no modification needed
Fully waterproof and shockproof
Engineered and manufactured in USA
No more errors or flickering. Diode Dynamics CAN-BUS Anti-Flicker modules are designed to condition factory power signals, both by smoothing out flickering signals to the output, and by replicating the power consumption of a halogen bulb, to avoid vehicle "bulb out" warnings that usually come with LED or HID power draws. It's a redesigned, modern version of the old, generic "warning canceller." It features nonpolar function, full power smoothing, and resistive and capacitive feedback to cancel even the most tricky CANBUS systems.
Plug and play installation. Thanks to their nonpolar design, these units simply plug inline, either between the bulb and factory connector for LED bulb installation, or between the ballast and connector coming from the grommet for HID Conversion Kit installation.  
Fitment. These modules can be used with 35W HID Conversion Kits or any LED bulb. It will prevent flickering or bulb out errors in low beams, high beams, fog lamps, or daytime running lights. The most common size used is 9006, which is the universal size for HID ballasts. However, you can select a different size as needed, for LED bulbs. This module is not recommended for use with 55W HID.
Designed to handle even the most troublesome CANBUS systems, it has been tested for compatibility in many vehicles, including Ram, Dodge, Chrysler, Jeep, VW, BMW, Audi, and Mercedes.
Please note: Although we have tested these modules on many vehicles, due to differences in the electrical system on each vehicle, we cannot guarantee that these will correct any and every problem that may exist on every specific vehicle of every make and model. We offer a 30-day return policy if they do not work on your vehicle for any reason.
Reliability. These modules are fully waterproof, shockproof, and are proudly made in USA by Diode Dynamics Manufacturing.
Not compatible for use with 55W HID unless you get power from the battery with a relay harness. Contact us for install questions before use.

Included: 2 Modules
Warranty: 3 Years
Fits H11, H8, H9, 880 and 881 style connectors.
Philips offers a great guide to validate fitment for your vehicle: https://www.philipsautolighting.com/
BRI Source cannot accept returns based on the wrong size ordered! See Terms & Conditions for more details.